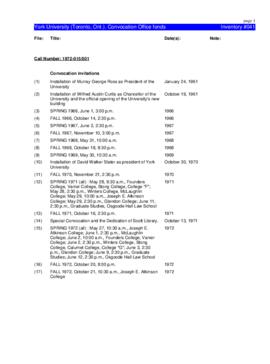 York University Convocation Office fonds
The fonds consists of records of the York University Convocation Office and includes correspondence with faculties and colleges regarding graduates, ceremonies, delinquent students, convocation programmes, some financial material, invitations and honorary degrees and citations. It also includes of scripts for the convocation ceremonies, citations, and installations of new Chancellors. In addition there are convocation addresses for the period 1961-1986 and there are also copies of diplomas from the several faculties. The fonds is organized in three series: Correspondence and papers relating to Convocation, 1979-1982; Order of Convocation (scripts), 1961-1996; and Programmes, 1961-1996.
Convocation office files are arranged by year of convocation and then alphabetically within each year. Scripts and programmes are arranged by date of convocation.
York University (Toronto, Ont.). Convocation Office